Moon Stories – Fountain Of Wisdom
Don't ask me about the title. Moon stories these will be and you'll know what kind they are by the label. You can read Heavy Construction too. I think I'll make a page for them.
Everyone knows what drinking fountains look like, or should. This is a story that starts with one much like the one pictured here. As you can see it's not all that special and has just enough 'stuff' to qualify as a drinking fountain that you might find in an elementary school. The fountain of the title looked much like this _and_ was to be found in a school. It might still be there if you were interested in looking.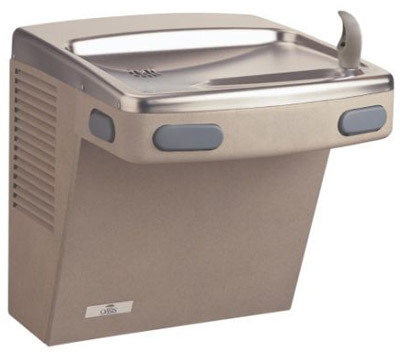 Still, it was an ordinary drinking fountain until one day at lunch when I happened to be standing in line to get my school lunch. To me it seemed like a long line but there were probably 100 kids or so in the line wrapped around the outside of the lunch room which doubled as theater. Nothing special should have happened that day at lunch but that drinking fountain changed my life forever. Now I'm not going to tell you that actually drinking from the fountain imbued into me some sort of wisdom. No. The wisdom, if I can call it that, was given to me for using the fountain the wrong way. A great many discoveries are made this way and some of them are good. I'm calling this one good.
So there I was standing in line, anticipation of 8 ounces of milk and something that was not a baloney sandwich when the guy in front of me went to get a drink of water from this fountain of wisdom. He probably grew up to be the class clown type, not because he drank funny, but because as he finished he thought it would be funny to splash me with some water. Even at 6 years old I was none too fond of this type of behavior. Anger leads to action and before I could voice my disapproval there were a few pushes. Not happy with the outcome I reached to the fountain and scraped my hand across the basin to splash him with considerably more water than he'd gotten on me. One would think that this would be victory but there was no time to celebrate because a teacher's hands were milliseconds in reaching my wrists. I cannot tell you what words she used, only that she was not happy. Before I could contemplate the fact that this now all seemed to be my fault I was being told I was going to the principals office despite my protestation that I did not start the great lunchroom brawl.
When you're 6 years old the principal ranks pretty damn high on the list of authority figures. Having to go see him was definitely a situation that called for regret and fear.
So there I sat in the principal's office, waiting to be punished in some unknowable way. I was probably waiting for him to finish his lunch but who knows. It seemed many minutes of anticipatory terror for my 6 year old brain. Finally I got called into his office. I sat down stoically. I can't remember everything but he basically gave me the 'good cop' routine. Probably because I looked like I was ready for the bad one. No matter what I had to say he was convinced that I was the problem and that I needed to learn to resolve my issues in non-violent ways. His words and body language let me know that I'd not be harmed but I'd have to listen to him tell me I was wrong no matter what. I settled for that given the alternatives I had dreamed up in my head. He seemed like a nice guy by the end of it, though completely lost on the plot of things. I was just relieved that he was only going to talk to me. The following days found me nervous at school. The water fountain ape did not stop with his picking.
Then about a week later we had a new principal. It turns out that Maryland had a thing or 80 against cheap booze and porn. If you were caught importing such into the state without paying state taxes it was a criminal offence. Guess where 'good cop' principal was? Yep, jail for the aforementioned offences. He'd managed to break both rules in one go. Of course, at just about the same time as he was breaking the law he was talking down at me and telling me that I need to learn to be better than others, that I need to obey the rules and not cause trouble.
Where is the wisdom already?
That episode did change my life. I learned quite a few things all in one short charade. Authority is not given just to those that deserve it and will bear it well. Sometimes the crooks are in charge no matter how kind or law abiding they appear. Authority figures don't really care what your problem is or what social justice issues you suffer. They are concerned about their own issues and those will always come before yours. At the drinking fountain I learned that it is not what you do but what people perceive that you do that is important. They will not take time to study the matter and come to a conclusion based on the evidence unless forced to upon penalty of contempt of court etc. I also learned that you can't trust authority blindly because it is often enough wrong despite any good intentions. That boy taught me what all politicians know, what they buy their groceries with: If you can avoid being seen doing wrong the public will side with you. Justice, as precious as it is, is rarely meted out with accuracy. I also learned that it's not always true but it's worth betting that the best liar will always win.
I'm not a teacher or paediatric psychologist but I can guarantee you that children are learning life lessons from about the time that they can talk.
What did you learn in the first grade?