Indulging superstitions comes at a real cost
And whooop, there it is. Follow the money. If your special idea would actually work there are many groups that would be exploiting it. The fact that governments are not exploiting your special power or thing is proof enough that it does not work.
Evidence & Reason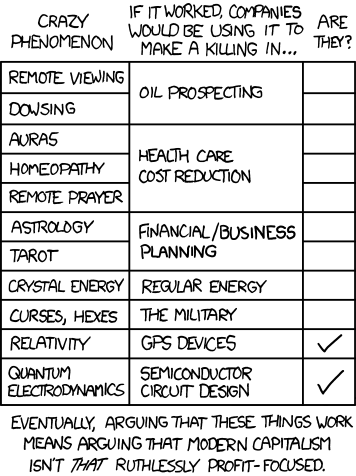 Source: https://www.xkcd.com Often we think of people's superstitions as harmless quirks that have are easily tolerated. No one gets hurt if someone says a prayer before eating, refuses to walk under a ladder or doesn't go out on Friday the 13th. Those are all superstitions, ie irrational beliefs in the supernatural, but ones that are so common or harmless that we give them a free pass. When some people take their superstitions to even greater extremes, like claiming lego will destroy children's souls or that Dungeons and Dragons is evil, we find it ridiculous but don't pay it much attention other than as a curiosity.
View original post 711 more words